Biographies
William Darryl Henderson
Chairman and Founder

William D. Henderson has been a successful residential developer and licensed general contractor in Santa Clara and Santa Cruz Counties since 1989. He focuses on Construction Management and Entitlements Management for Cypress Group. Colonel Henderson was an infantryman and commanded troops at every rank held during a career of 26 years, including a combat tour in Vietnam as a company commander. He served in positions of increasing authority, including Battalion Commander, Assistant for Legislative Affairs to the Deputy Secretary of Defense, and Senior Arms Control Planner, NATO. He culminated his career as the Commander of the Army Research Institute for a three year tenure in which he directed hundred of research scientists and a $75M budget to maximize combat effectiveness. William D. Henderson graduated with a BA from Stanford University in 1961. He received a PhD in Comparative Political Systems and International Relations from the University of Pittsburgh in 1974. He is a graduate of the Army's Command and General Staff College and National War College and has testified before the Senate and House Armed Service Committee on military organization and combat effectiveness. His decorations include the Legion of Merit, Bronze Star Medal, Purple Heart and Defense Meritorious Service Medal.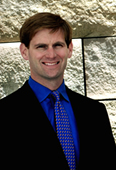 Tim Henderson
President

Since joining Cypress Group in 2002, Tim has taken a lead role in Land Acquisition, Finance and Administration, Subcontractor Contract Negotiation and Administration, and Sales and Marketing. He is a licensed general contractor and real estate broker. Prior to that he served as Vice President & Principal of Citizens Capital, a $400M+ venture capital and mezzanine debt fund located in Boston, MA and wholly owned by The Royal Bank of Scotland. He added value to the portfolio companies and protected the Citizens Capital equity investments by sitting on the Board of Directors for five information technology companies ranging in size from pre-revenue companies to $105M in annual revenue. Tim also was the Director of Business Development for MyWay, a consumer software application company, where he built relationships and closed deals with several of the largest telecommunications companies in the country. Tim served for five years as a submarine officer and nuclear engineer, most notably aboard the USS Simon Bolivar, SSBN 641. Tim led all operations of the submarine as Officer of the Deck and all operations of the nuclear power plant as Senior Plant Supervisor. Involvement in the Silicon Valley community is important to the Cypress Group. Along with coaching his children in soccer and baseball, Tim served as an active Board Member for First Community Housing, a leading regional not for profit affordable housing developer, from 2009 until 2019. He currently serves on the Board of Directors for OnView Integrated Solutions, a privately held, rapidly growing company headquartered in Fremont, CA which leverages deep learning techniques to deliver innovative, cost effective physical security solutions. He was granted a Bachelor of Science degree from the United States Naval Academy in 1990 and a Masters in Business Administration degree from Harvard Business School in 1997.